Vocal Biomarkers
(SND101)
Brain / Nervous System
TRIAL PHASE
MECHANISM
INDICATION(S)
PRODUCT NAME
Preclinical
Phase 1
Phase 2
Phase 3

Depression

Sonde
(SND101)
Brain / Nervous System
Vocal Biomarkers
| | |
| --- | --- |
| INDICATION(S): | Depression |
| NAME: | Sonde (SND101) |
| STAGE: | Phase 1 |
Vocal Biomarkers
Our Vocal Biomarkers program has the potential to fundamentally change the way mental and physical health is monitored and diagnosed, including conditions that affect the neurological, muscular, and respiratory systems required for speech production.
We are advancing a proprietary voice-based technology, developed internally and with intellectual property licensed from the Massachusetts Institute of Technology (MIT) Lincoln Laboratory, which has been tested in over a thousand subjects and has demonstrated the potential to effectively screen and monitor for disease using information obtained from an individual's voice on commonly-owned devices.
---
Patient Need & Market Potential

Despite the high burden of depression and the recommendation that the 270 million US adults and adolescents receive depression screening once a year, fewer than 10% of patients are screened and only about half of those diagnosed receive care.   Increasing attention to this need is increasing demand for solutions to improve screening rates and facilitate effective and efficient integration of behavioral health care. 
The lag between onset of disease and accurate diagnosis and beginning of treatment can be measured in years for many high-burden health conditions including depression, Alzheimer's Disease, MS, and Parkinson's Disease to name just a few.  Products that can reduce these delays can create the potential to improve outcomes and care efficiency. 
Development of effective therapies for central nervous system diseases and disorders is hampered by the high cost and inherent variability of these diseases and the reference diagnostic measures used to characterize them.  Objective digital tools that can augment and perhaps one day replace the current clinical endpoints with novel measures that can be measured with more accuracy and less burden can improve patient enrollment and drug development for a range of important conditions.

Our Approach to Solving the Problem

Our Vocal Biomarkers technology is being developed to enable a range of consumer devices such as smart phones to provide effective disease screening and management solutions based on analysis of seconds of voice. By tailoring the information produced by these objective voice measures to correlate with existing screening and diagnostic measures and integrate with patient care flows we are creating services to address a range of patient needs starting with depression.

Intellectual Property

We have broad worldwide intellectual property coverage, including exclusive rights to over 13 issued patents and patent applications 
We have filed several patent applications covering a number of facets of our technology in addition to the IP that was licensed from MIT

Team

Key advisors include:

Dr. Maurizio Fava, Director of the Division of Clinical Research of the Massachusetts General Hospital (MGH) Research institute and Executive Vice Chair of the MGH Department Psychiatry;

Dr. Harry Leider, Chief Medical Officer and Group Vice President of Walgreens;

Dr. Ian Gotlib, Professor and Chair of the Department of Psychology at Stanford University and Director of the Stanford Mood and Anxiety Disorders Laboratory;

Dr. Helen Christensen, Director and Chief Scientist of the Black Dog Institute and Professor of Mental Health at the University of New South Wales;

Dr. Aimee Danielson, Founder and Director of the Women's Mental Health Program at MedStar Georgetown University Hospital;

Dr. Julien Epps, Associate Professor in Signal Processing with the School of Electrical Engineering and Telecommunications at UNSW Australia; and

Dr. Robert Horvitz, Board Advisor & Scientific Advisory Board Chair at PureTech Health, Nobel Laureate, HHMI, MIT


The program is being run by Dr. Jim Harper and Dr. Eric Elenko

Milestones Achieved

A scalable cross-platform mobile research app and administrator interface has been made available to academic collaborators and study participants. This has allowed the program to build a mobile depression and speech research corpus gathered data from over 3000 volunteers to date
Our first U.S. Patent, broadly covering methods of assessing mental or physical condition of a subject, using phonetic structures, or phones, extracted from speech audio waveforms, was issued on September 19, 2017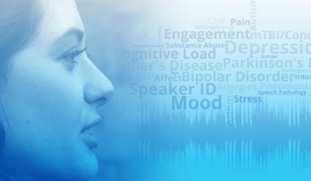 Our Vocal Biomarkers technology is being developed to extract clinically meaningful health information from everyday voice interactions. This analysis of subtle yet quantifiable, characteristic changes in the voice can accurately reveal important aspects of an individual's health.
Our platform is designed to generate unprecedented persistent and passive health awareness and objective data to enable and enhance holistic patient management. Our technology measures the features of speech but does not require the contents of speech, therefore protecting privacy.
---
Speech: Unique Gateway to Health
---