Puretech Ownership1
Therapeutic Candidate2
Initial Indication(s)
Stage of Development
23.3% Equity plus Royalties
Adolescent weight management
Pending Discussion with FDA7
Weight management in type 2 diabetes (T2D)/prediabetes
Clinical Trial Complete
Non-alcoholic steatohepatitis/Non-alcoholic fatty liver disease
Clinical
1 As of November 11, 2022, PureTech's beneficial ownership of Gelesis was approximately 23.3%. PureTech is eligible to receive additional earnout shares in accordance with the terms of the business combination agreement. PureTech is also eligible to receive certain payments from Gelesis under its license agreement, including sublicense payments and royalties on sales of certain products, including Plenity.
2 These therapeutic candidates are regulated as devices and their development has been approximately equated to phases of clinical development. With the exception of Plenity, candidates are investigational and have not been cleared by the FDA for use in the U.S.
3 Important Safety Information about Plenity®: Patients who are pregnant or are allergic to cellulose, citric acid, sodium stearyl fumarate, gelatin, or titanium dioxide should not take Plenity. To avoid impact on the absorption of medications: For all medications that should be taken with food, take them after starting a meal. For all medications that should be taken without food (on an empty stomach), continue taking on an empty stomach or as recommended by your physician. The overall incidence of side effects with Plenity was no different than placebo. The most common side effects were diarrhea, distended abdomen, infrequent bowel movements, and flatulence. Contact a doctor right away if problems occur. If you have a severe allergic reaction, severe stomach pain, or severe diarrhea, stop using Plenity until you can speak to your doctor. Rx Only. For the safe and proper use of Plenity or more information, talk to a healthcare professional, read the Patient Instructions for Use, or call 1-844-PLENITY.
7 Contingent on FDA review of the research plan.
Gelesis' investigational therapeutic candidates
Developing a novel category of therapies for obesity and GI-related chronic diseases
Gelesis is developing a novel category of therapies for obesity and GI-related chronic diseases. Given challenges associated with pharmacological and invasive surgical treatments for obesity, Gelesis designed an approach with an oral, non-invasive, non-systemic mechanism of action and a highly favorable safety and efficacy profile. Gelesis' therapeutic candidates work in the GI tract and pass through the body without being absorbed. Their superabsorbent hydrogels mimic some of the properties of raw vegetables. They are conveniently administered in capsules and act locally in the stomach and intestines, helping people feel satisfied with smaller portions so they can eat less and lose weight, while still enjoying foods they love as part of a reduced-calorie diet. Because Gelesis' technology acts mechanically and is not systemically absorbed, the therapeutic candidates are treated as devices for regulatory approval purposes.
Program Discovery Process by the PureTech Team

We were interested in creating an effective and safe therapy for obesity given the tremendous need, significant health implications and failure of prior approaches to effectively engage and serve the breadth of the population affected. We consulted with leading obesity experts to brainstorm the characteristics of an ideal approach, which we decided was an orally administered mechanically acting device that's expected to have a favorable safety and tolerability profile, and we then conducted a worldwide search for compelling technologies meeting these criteria. We identified and in-licensed the core intellectual property from one of our academic collaborators in October 2008, and we subsequently co-invented additional intellectual property around a novel class of biocompatible, superabsorbent hydrogels. One of the core PureTech team members involved in the initial identification and development process subsequently assumed the role of Chief Executive Officer of Gelesis, and successfully attracted financing and built a strong development and commercial leadership team.
The Gelesis advisory team is comprised of leading experts in obesity and its related comorbidities, clinical research and development and advanced biomaterials, including Caroline Apovian, M.D., Professor of Medicine and Pediatrics, Boston University School of Medicine and Co-Director, Center for Weight Management and Wellness, Endocrinology, Diabetes and Hypertension, Brigham and Women's Hospital; Louis J Aronne, M.D., FACP, Director of the Comprehensive Weight Control Program at Weill Cornell Medicine; Arne Astrup, M.D., Head of Department of Nutrition, Exercise and Sports at University of Copenhagen; Ken Fujioka, M.D., Director of the Nutrition and Metabolic Research Center and the Center for Weight Management at the Scripps Clinic; James Hill, Ph.D., Chairman, Department of Nutrition Sciences, Director, Nutrition Obesity Research Center, University of Alabama; Professor of Medicine and Pediatrics, University of Colorado; Scott Kahan, M.D., MPH, Director of the National Center for Weight and Wellness; Lee M Kaplan, M.D., Ph.D., Director of the Obesity, Metabolism and Nutrition Institute at Massachusetts General Hospital; Bennett Shapiro, M.D., Co-Founder and Non-Executive Director at PureTech and former Executive Vice President of Research for Merck; and Angelo Tremblay, Ph.D., Professor at Laval University.

Patient Need & Market Potential

Excess weight is growing rapidly in prevalence worldwide, with approximately 70% of American adults struggling with overweight and obesity. Globally, there are more than 1.9 billion adults 18 years of age or older who have overweight and 600 million who have obesity. In addition to the adult population, the pediatric population is also suffering from an obesity epidemic. According to the CDC, by 2016, obesity in the U.S. has more than tripled in children and adolescents since the 1970s. In 2017-2018, more than one-third of children and adolescents had excess weight or obesity. According to a study by WHO, in 2016, over 340 million children and adolescents aged 5-19 had excess weight or obesity. Obesity-related conditions, such as heart disease, stroke, type 2 diabetes, NASH/NAFLD and certain types of cancer, are some of the leading causes of preventable death. Functional constipation and NASH/NAFLD affect approximately 30 million and 80 to 100 million individuals, respectively, in the U.S. Type 2 diabetes and prediabetes affect approximately 32 million and 88 million individuals, respectively, in the U.S.
Current treatments for patients with overweight and obesity begin with lifestyle modification, such as diet and exercise. When healthy eating and physical activity fail to produce the desired results, physicians may consider pharmaceutical therapies, device implantation or surgical treatments, such as gastric bypass and gastric banding (for patients with more severe obesity). These approaches are associated with significant safety concerns, lifestyle impact, complexity of use, high cost and compliance issues that have limited their adoption.

Milestones Achieved & Developmental Status

In late 2021, Gelesis completed a preliminary analysis of the LIGHT-UP study, a multicenter, randomized, double-blind, placebo-controlled, investigational study that enrolled 254 subjects with overweight or obesity who also have prediabetes or type 2 diabetes, and that analysis remains underway. The study was designed to assess the change in body weight in adults after six months of treatment with a new oral superabsorbent hydrogel (GS200) or placebo. The study met both of its primary endpoints: the proportion of participants who achieved at least 5% body weight loss (defined as "Responders") and the change in body weight as compared to placebo after six months of therapy. The LIGHT-UP study was conducted at 36 clinical sites in Europe and North America with 208 subjects who completed the 6-month study.
In November 2022, Gelesis announced Dr. Frank L. Greenway presented data from the LIGHT-UP clinical trial with Gelesis' oral hydrogel treatment GS200 at ObesityWeek 2022. Considering the previously reported findings from the LIGHT-UP study, the significant improvement in fasting insulin and postprandial insulin response, as well as the notable reduction in waist circumference (secondary endpoints), a post hoc analysis was conducted to explore whether abdominal fat affects the level of weight loss response with the novel hydrogel treatment. The analysis supported Waist to Height Ratio as a potential biomarker to help predict weight loss response with GS200 treatment in people with prediabetes or type 2 diabetes.
In November 2022, Gelesis released new data from a study that investigated how an oral superabsorbent hydrogel (Gel-B or GS200) increases Akkermansia muciniphila in comparison to two prebiotics, inulin, and psyllium. A. muciniphila is a bacteria associated with thickened mucosal lining of the gut, that encourages improved gut barrier function, and lean body mass.
In May 2022, Gelesis presented results from the LIGHT-UP clinical trial for adults with overweight or obesity who have prediabetes or type 2 diabetes and were treated with either GS200 or placebo at the European Congress on Obesity 2022. Approximately 6 out of 10 adults treated with GS200 achieved a clinically meaningful response to treatment (achieving at least 5% body weight loss), losing on average 11% of their body weight (~23 pounds) and an average reduction of 5.5 inches off their waist circumference. GS200 is an orally administered superabsorbent hydrogel taken by capsule with water 10 minutes before lunch and dinner and is designed to act mechanically in the GI tract in order to induce satiety in patients with prediabetes and type 2 diabetes.
In June 2022, Gelesis presented new preclinical data showing weight loss and additional metabolic benefits in mice receiving a microbiota transplant from another group of mice, treated with one of the company's proprietary hydrogels, at the American Diabetes Association's Annual Conference. These metabolic benefits occurred while both groups of mice, the donors of the microbiota transplant and the recipient mice, were on a high fat, high carbohydrate diet typically causing rapid weight gain, obesity, and diabetes.
In November 2021, Gelesis announced a publication in Nature's Scientific Reports describing the genesis of the underlying technology and engineering process for Gelesis' non-systemic superabsorbent hydrogels. The paper describes their therapeutic approach for weight management as well as possible future solutions for other gut-related conditions.
In May 2021, Gelesis presented a scientific poster at the American Association of Clinical Endocrinology (AACE) 2021 Annual Virtual Meeting. The post-hoc analysis showed that treatment for weight management with Plenity decreased a marker for liver fibrosis (the NAFLD fibrosis score) compared to placebo.
Gelesis initiated a Phase 3 study of GS500 in functional constipation in the second half of 2020. A pilot study of 40 individuals showed that a prototype of GS500 demonstrated a significant reduction in colonic transit time in patients with functional constipation by approximately 18 hours compared to baseline (P=0.025 compared to placebo).
In April 2022, Gelesis released a poster presentation at the World of Microbiome Annual Meeting in Vienna. The preclinical study showed administration of one of the company's proprietary superabsorbent hydrogels, Gel-B, significantly shifted the composition of the microbiome to a profile correlated with better metabolic health, including improved weight and glucose control. Adding Gel-B to a high-fat diet exponentially encouraged the growth of Akkermansia muciniphila, a bacteria associated with thickened mucosal lining of the gut, improved gut barrier function, and lean body mass. Furthermore, benchtop studies indicated that the 3-D structure and unique properties of Gel-B is required to support the increased growth of Akkermansia. These data suggest that superabsorbent hydrogels may offer additional therapeutic mechanisms promoting metabolic health beyond their space occupying properties.
Note: Gelesis' completed and ongoing studies have been approved by the applicable reviewing Institutional Review Boards (IRBs) as nonsignificant risk device studies. Gelesis also has ongoing discovery efforts to expand its pipeline. Our board designees represent a minority of the members of the board of directors of Gelesis, and we do not control the clinical or regulatory development or commercialization of Gelesis' therapeutics and therapeutic candidates. We have an interest in Gelesis' therapeutic candidates through our minority equity investment as well as our right to royalty payments as a percentage of net sales pursuant to a license agreement between us and Gelesis. Gelesis is well protected with a robust intellectual property portfolio. Gelesis was incorporated in February 2006.
Key Features
---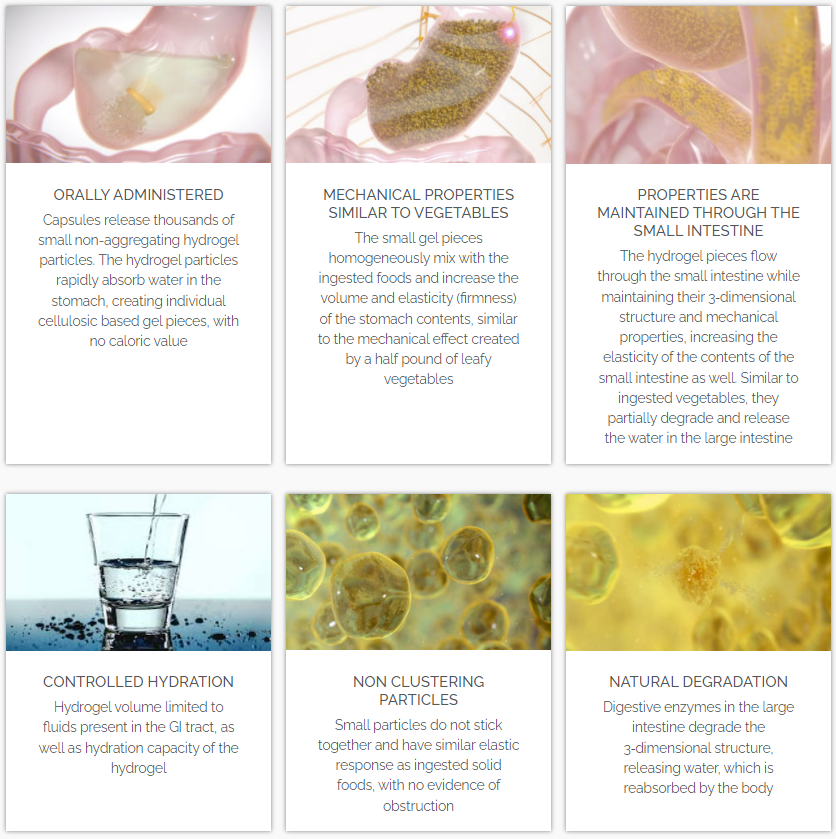 The proprietary Gelesis platform is the first and only superabsorbent hydrogel made exclusively from naturally-derived building blocks
---